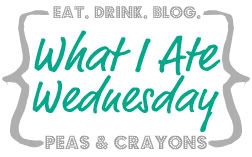 Here we are – Wednesday again! Seems like the perfect day for a bit of link up love. Hope on over to
Peas and Crayons
and make sure to see everyone's foodie posts.
This week I'm taking a look at Tuesday's eats. Loading up on fruits and veggies was the name of the game. After some solid food prep on Sunday, I felt ready to load up on tasty and healthy meals.
Breakfast: Green smoothie and banana. Smoothie ingredients prepped and frozen from this weekend a la the instructions in this post.
Snacks: Almonds and an apple. Simple, yet filling.
Lunch: Oops! Busy day at work yesterday and I ate it before I realized I should photograph it. But, I made this mango-corn-black bean salad from Eat, Live, Run paired with some salad greens and a Chobani Caramel Pineapple bite. I had mixed feelings about the Chobani – it was good, but I'm not sure Caramel and pineapple belong together.
Dinner: Big green salad with chicken, Farmers' Market grape tomatoes, avocados and the best balsamic vinegar.
What did you eat this week?