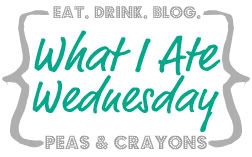 I'm happy to report the weather is finally getting nicer and I can drink a smoothie for breakfast without having to crank the heat in my car to warm up afterward. I love smoothies in the morning because they are portable (who has minutes to spare in the a.m.?), refreshing and  I can sneak extra veggies into them. Who doesn't want to start their day with a handful or two of spinach?
At Costco this weekend I stocked up on frozen cherries, frozen berries and a few tubs of baby spinach (which I froze) in order to prepare for lots of smoothie goodness. My other favorite add-ins are almond milk, chia seeds and Greek yogurt for some protein aka staying power. I'm looking forward to lots more smoothies this summer and to trying out some recipes from the smoothie cook book I got for my birthday in November (thanks, friends!).
As you've probably gathered, this week's eats are going to start with a smoothie. Probably the weirdest picture of a smoothie… but here it goes!
Breakfast
Cherry Spinach Chia Smoothie (photo is the inside of my travel mug aka protein shaker… don't judge.)
Snack
Apple and string cheese… photo taken halfway in
Lunch
Black bean veggie burger, roasted sweet potatoes over spinach, alfalfa sprouts and avocado
Dinner
Farmers Market salmon and asparagus, brown rice
What are you eating this week? Smoothies – yay or nay?